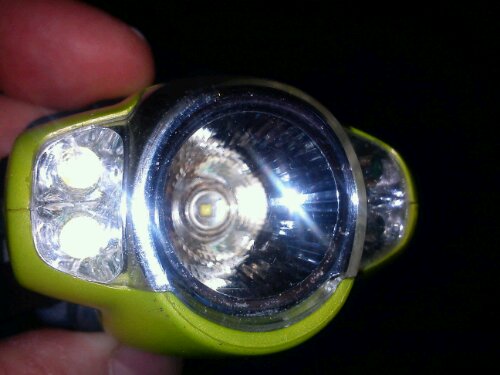 My constant search for the best all around bicycle lighting solution has led me to the Black Diamond Icon Head lamp. I have tried other options, including handle bar mounted options, 1 and two watt bulbs, as well as models with and with out external battery packs.
The choice to have the light attached to the head rather than the handle bars is obvious when you can direct a beam of light right into the eyes of  drivers from merging traffic. Having a light mounted on the handle bars will do nothing but make you watch the small patch of road in front of you.
The Icon is one of Black Diamond's brightest headlamps and it features 3 different brightness settings between it's three modes. The most powerful spotlight mode is for viewing objects in the narrow distance and has made riding bike paths in pitch blackness a peice of cake.
This mode will draw the most power and I find myself using it the most for bike commuting where you want to put out as much light as you can to compete with the interfering lights from cars and street lights.
The Icon's brightest of the 5 LED's is a a 3 watt Xenon bulb and claims 100 meters and 100 lumens of viewing pleasure on the high setting and 50 meters on the lowest setting.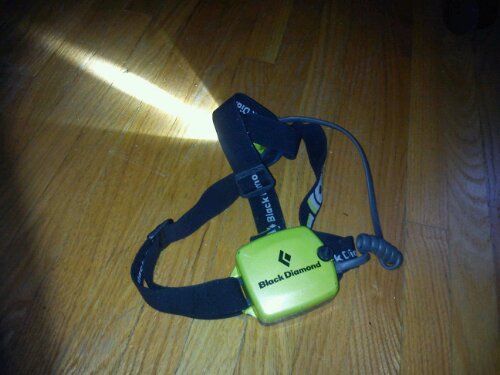 Even if you don't go with the Black Diamond Icon, you can't argue the difference that you see between 1-2 watt LED lights and the 3 Watt headlamp bulbs.  At three watts you can clearly single out objects in the horizon and most importantly that extra light gives you the ability to not "over drive" your vision, or go faster than your ability to see whats coming at you when booking it down the street or path.
The  flashing white strobe light delivers a terrific solution for emergency situations or when visibility is poor, like morning fog or rain and you need to be seen more than you need to see, if that makes any sense?
An area illumination mode using the out side 4 lower power LED's is perfect for reading and hanging around fellow campers and cyclists with out blinding them. This mode will give you a much longer run time and conserve battery life. You'll also appreciate this setting when working with reflective objects as the the bright setting can momentarily blind you when reflected from a shiny bicycle rim or wrench.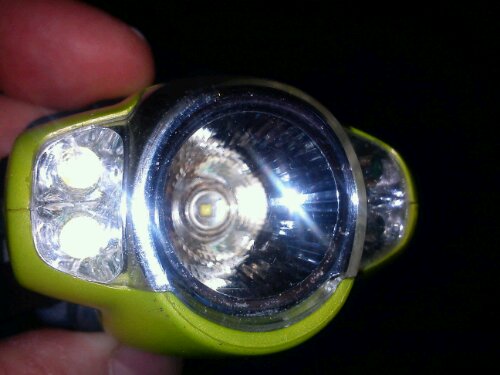 I had some trouble attaching the Icon to my helmet due to to the awkwardness of the battery pack . Come to think of it, the Giro helmets are pretty irregularly shaped them selves. No easy task to be sure.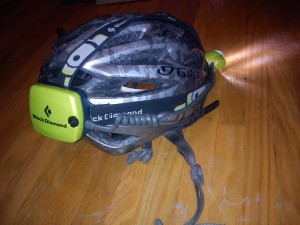 The battery pack seems to sit best on the rear of the helmet and is connected to the lamp by a silicone covered coiled line.  While I'm sure it will last for some time, I find that the coiled cable presents too much resistance when adjusting the head band and seem to mess up the balance making for a lop sided helmet. It's near perfect for my head though.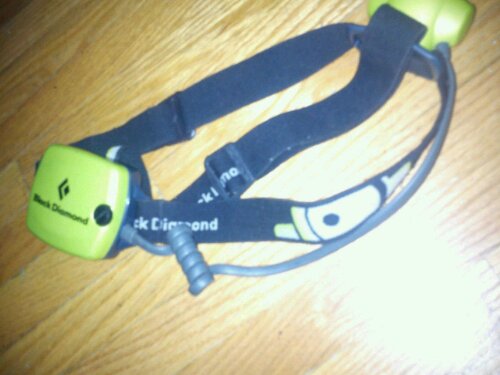 Perhaps some instructions on how to best attach the lamp to a helmet should be included.  A series of zip ties in all the right places makes for a semi permanent helmet installation. Some lacing grommets could be stylistically designed for the exterior of the battery case making great attachment points.
The Black Diamond Icon features the option of using 3 AA batteries or…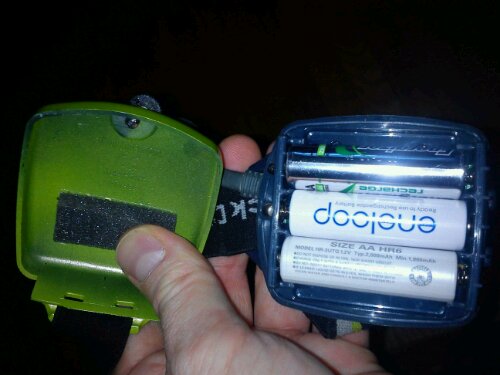 Black Diamond's proprietary NRG Rechargeable Battery pack. I find I can run the light every night for a week for at least 45 minutes on this setting before noticing any difference in power output. After two weeks of commuting, it's time to recharge the batteries.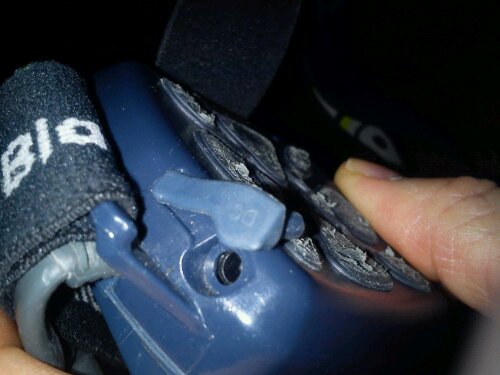 I really like the screw down water proof battery case. After many dunkings in rain and numerous bike and kayak camping trips I'm happy to say the Icon hasn't failed me when it comes to water resistance.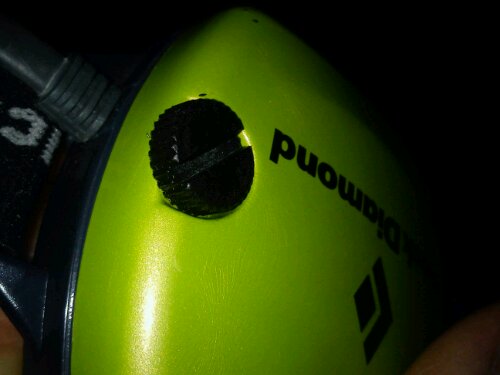 The one button control makes things easy even for those times where your hands are frozen in winter gloves and you are fumbling for the bike lock in the dark.  I really like that the on/off switch, its totally sealed from the elements. No more marshmallowy smores fused to the headlamp!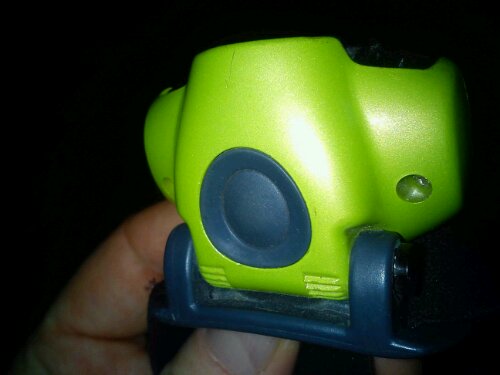 The lamp tilt has been much improved for a more positive click feeling compared to older models. They would become useless after the plastic tabs broke out of the tilt mechanism (The BD Cosmo, or the BD The Spot? This happened to both of mine).
If you're curious, Black Diamond offers a three year warranty on all of their headlamps.
After three years, all of the LED's in my other lamps have died out, no matter how good of batteries you install. So you have to think of this purchase as a light that will only last you about 3 three years, anything more than that is on borrowed time.
In three years time, there will be a lighter, brighter, more powerful model that will last you another three years or so. Just think about the difference in technology from tungsten lamps in flash lights, halides, halogens to xenon LED. Things move very fast in the world of portable lighting.
The Black Diamond Icon has another handy features that separates it from other wannabe headlamps. A battery power meter with 3 indicator lights: green for fully charged, yellow at 20% and red when power is critical at lower than 20%.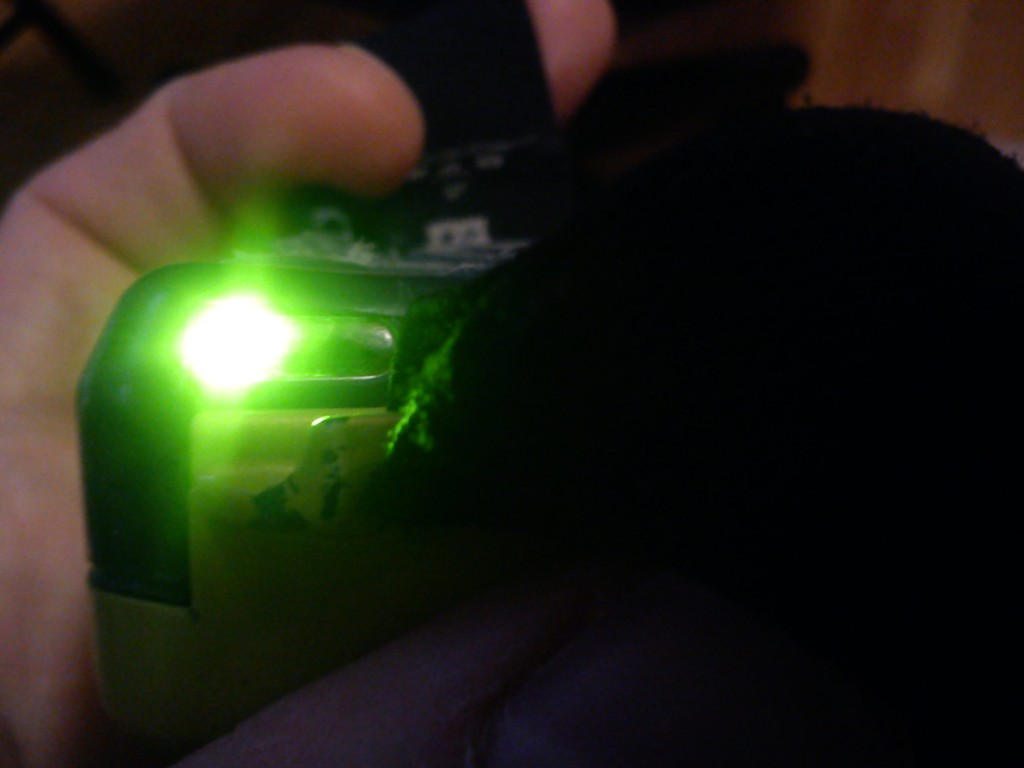 After owning the light, it has become pretty obvious when it time to change the batteries as the output will be severely dimmed when the red LED is indicated.
I know that Black Diamond does not advertise their lights for cycling use as they are primarily a mountain climbing company, but I believe that they could easily cross over into bike lighting. Cycling presents a much larger market.
Over all I highly recommend this light. It will blow away almost anything else on the market in terms of brightness per dollar spent.  At this point there is no substitute for having the power of 3 AA batteries in the external pack.
Bar the coiled power cable and bulky external battery pack  I can't think of why you shouldn't pick one up at $40 to $60. I use this headlamp for any projects that need superior lighting, like work with miniatures, cutting wood on a scroll saw or soldering electronics.
I use this light all year round with temperatures all the way down to -35 C. I hardly noticed any battery fade in the cold.
Damn, I could only wish for a lamp this bright and portable as a child, one that didn't require a small car battery to be bolted to the handle. Try strapping that to your BMX…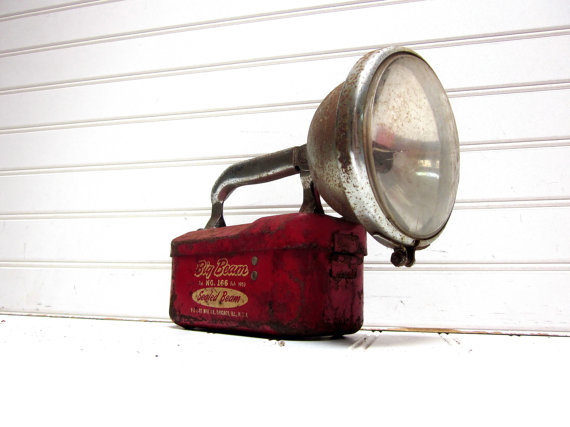 Go ahead, blind your friends and extend your bike riding hours! Be safe!