I took a ride through the Forks today to check on the progress of the the Canadian Museum for Human Rights. I've been following this construction process for some time now. Here's another updated picture.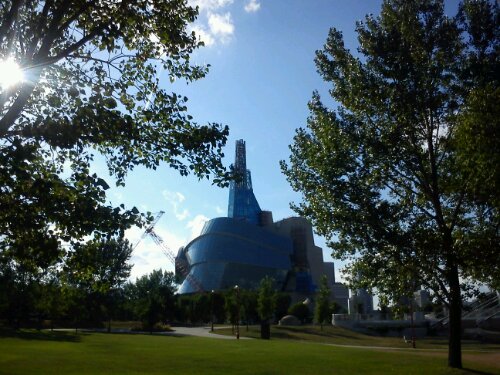 This is one of the most amazing building I have ever had the pleasure to see in person.  It's a bold design, for more than one reason. Even though the glass sides of the Museum are facing south, we'll see if they can withstand the cruel North wind of the Winnipeg winter.
The Museum looks different from every angle. Being located in the remaining green space of the Forks cultural centre , the reflections give the building an appearance reminiscent of the " Emerald City " from the Wizard of Oz.
The grounds are always very well kept and the surrounding shops and services are a great destination for a bike ride in Winnipeg. The Forks is connected from every direction by bike lanes and paths so don't forget your panniers when you visit the indoor market for some fresh groceries or a bottle of wine.
As their website claims
"The Canadian Museum for Human Rights (CMHR) is envisioned as a national and international destination-a centre of learning where Canadians and people from around the world can engage in discussion and commit to taking action against hate and oppression."
It's a grand, worthy vision, and from a cyclist's point of view, I sure hope they have an exhibit commemorating bike commuters.
Check out the South webcam here to see how the building process is going for yourself.