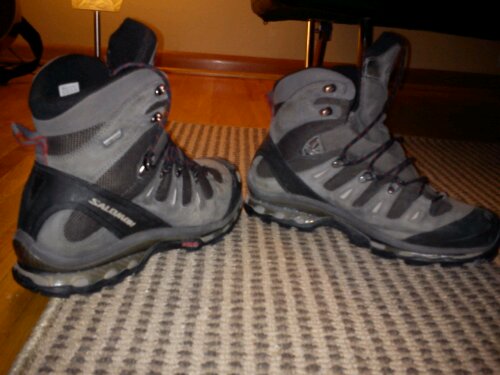 I purchased a pair of Saloman Quest 4D GTX day hiking boots about 3 years ago. They are rated as a day hiker/ trail running boot on the Saloman website. The description is pretty brief as follows and sounds more like a war era news reel.
"Extra light backpacking boot gains stability and comfort from our most advanced Trail Running technologies."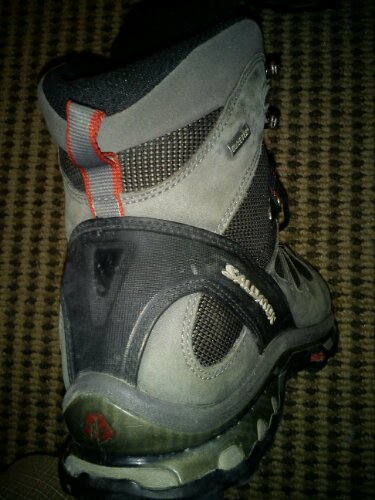 I needed a boot for temperatures between 0C. and – 30C. After that you'll have to go with full on Sorell ice pack boots if you intend to stay warm in extreme temperatures for any more than an hour. Unfortunately these styles of extreme foot wear are very heavy and difficult to walk in never mind pedal a bicycle. Their only positive attribute is really their insulation.
The Salomans are fairly light weight comparison at 1.36kg. Choosing a light weight winter cycling boot is critically important since you will be pushing and pulling those boots around with every revolution of the cranks.
Having these pull tabs has truly been brilliant in oh so many situations, from storage to puffy socks.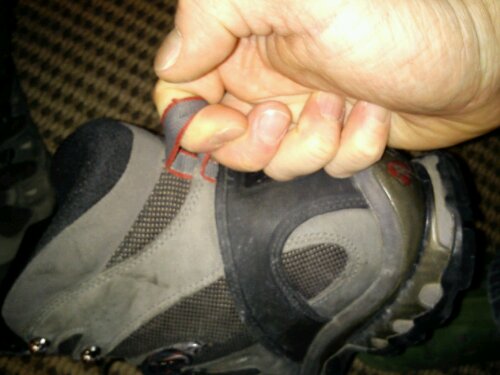 Reducing the weight of the moving parts in the drive train and engine will lead to increased efficiency, ( as if it matters in the winter). Your choice to reduce weight in your winter cycling boot will make spinning up to speed much easier as you stop and go.
The Quest 4D are a summer boot, therefore there is no insulation. I have left that up to my SmartWool socks and liners. The boots are very breathable as they employ an integrated Goretex XTR  water proof bootie. With out the perspiration trapped in the boot, your feet stay much dryer and as a result much warmer.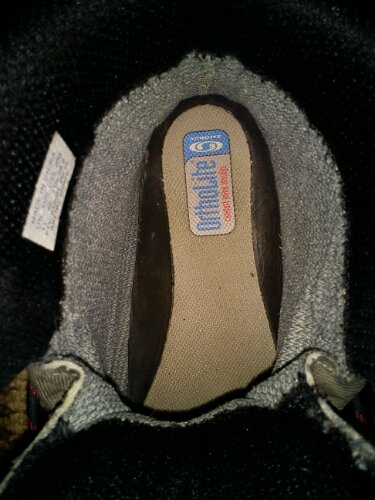 The tip of the toes could use some redesign as the rubber rand protecting the front of the boot seemingly blocks the escape of moisture as I can sometimes feel some dampness at the tip of the toes when taking off the boots.
As they have no insulation, the Quest boots do dry out really quickly.
The Contagrip tread has performed very well in warmer temperatures, and on frozen icy surfaces. The sole does get hard after -25c or so  and cannot be counted on for much more than common foot wear at those temperatures.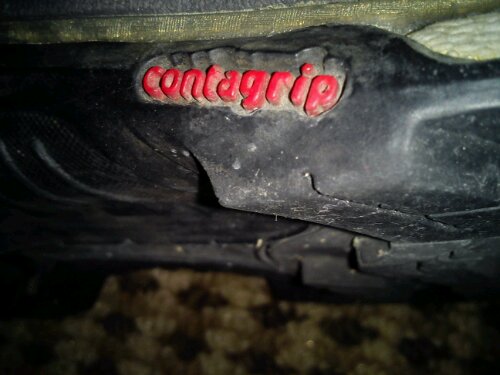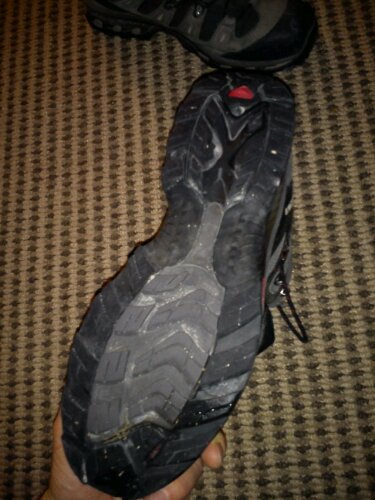 Whatever superb bonding system Saloman has used during the manufacture of the boots is really proving effective. Without any visible stitching, I still do not see a single peel around the entire rand of the boot.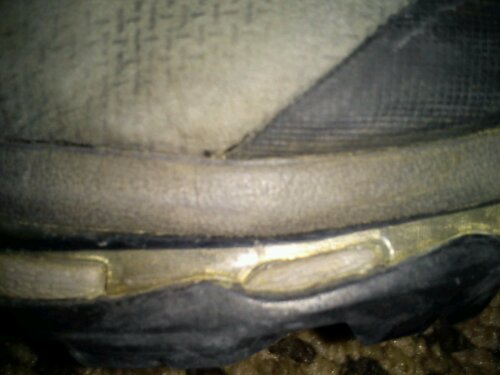 Given, this is not a work boot, and I haven't treated it as such. At this price you must respect the amount of hours you've worked to buy them.
I treated the boots initially with 3M Outdoor Water Shield. I use it on a lot of different gear when the OEM water repellent wears out, but now I use it preemptively on new gear. When the gear is new you can lock out the dirt using this spray. The finest dirt and greenest slime wash right off with water.

It's a silicone protectant and I did not find that it interfered with the breathability of the boot, nor did it dry out the uppers in any way. I had been advised not to treat them at all, and that Saloman has already taken care of water proofing with their own durable water repelancy (DWR). Although I don't have another pair for control test purposes, I'm convinced using the 3M Scotch Gard spray was a good decision, and did no harm the boots. I plan on doing my best shirts and pants next!
The lace system is very good and allows for some adjustment for different uses and conditions. I typically do them up completly for cycling, but if i'm just shuttling around I skip the ankle grommet.
I do wish that my pair would have come with the "lace lock" gadget featured on the Saloman insert. The laces were of fine quality regardless.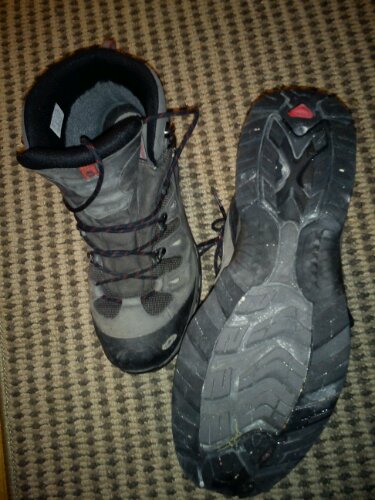 After two years and two winters of cycling, these boots are in terrific shape. No maintenance and the uppers are barely creased.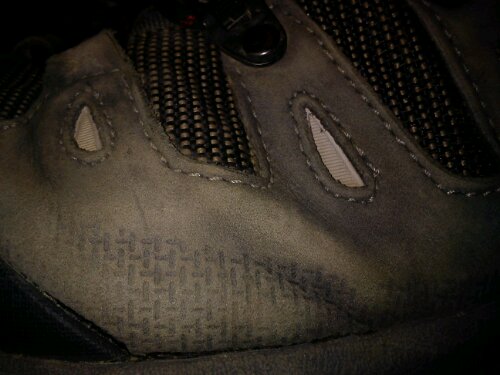 The ballistic nylon fabric used in the upper has offered mobility and flexibility like no other boot I have ever worn. Especially when squatting. I have more uncomfortable cleated shoes when concerning pedaling. The cut of the ankle does not interfere with your calf when riding the bike.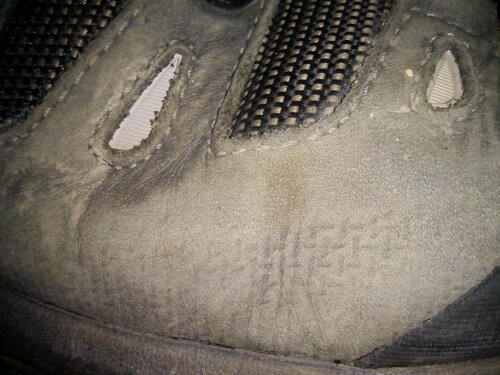 I've enjoyed driving my manual transmission car while wearing these boots during the coldest winters as well as being ever so thankful for them on moving day. I have done a moderate amount of hiking through the woods, and have had to cross swampy trails and portages. Although the water
pours in over the top, you'll appreciate how quickly things dry up.
Over all I am very pleased with these boots, and really have my fingers crossed that I'll never have to buy another pair of boots for as long as I live. Nothing but satisfaction so far, I report back  with any further findings.