Winter cycling  poses a number of challenges and conundrums. Like in this photo we pose the question.
Would you rather ride up or down a skating rink?
Can't go back the other way…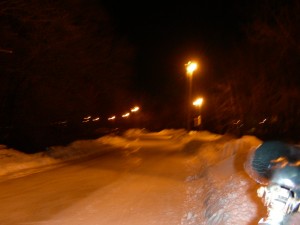 At -30 Celsius and with 30- 50 km per hour winds, nothing lives or moves but the wind and snow. When it's this cold, there is no humidity All moisture just falls to the ground. Deafening silence from what is normally a noisy summer time destination.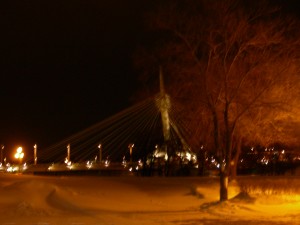 Truly an eerie experience. Night falls at 4:30 here and the chances are  you begin your commute to work in total darkness, and return in total darkness. Things brighten up around 8 am.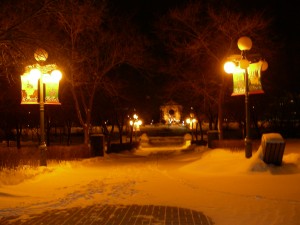 The question is, what time day where these pictures taken at?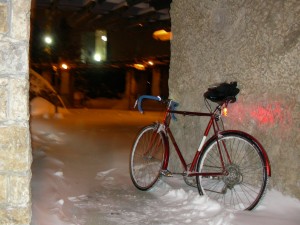 Taking refuge in the Tyndall stone monument at the Forks to make an adjustment.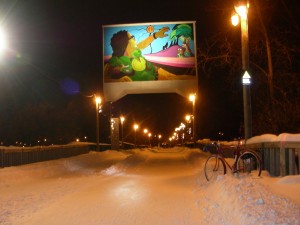 A really nice mural has been painted on the counter weight of this antique bridge. With all the bright lights it almost feels like the sun is shining down on you. A much welcomed though in January.
The skating rink at the Forks loops around the grounds for miles. I ride through frequently,and they do a great job of keeping the routes plowed for pedestrian traffic.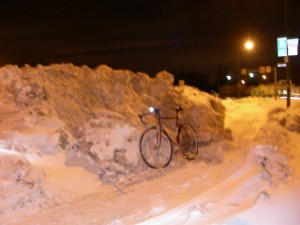 In some parts of town, the conditions are getting ridiculous already. Totally fun, but ridiculous. There's a side walk in under there, I think?
I've had these pics on the camera for a while. I rarely carry the camera with me anymore. Just trying to keep the bulk in my luggage down. I need a good smartphone…
Tell me again, what's the fastest growing winter sport?
Have you got some winter bike riding pictures you would like to share? Drop me a line Here.