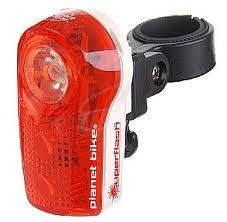 It's late October 2010. The days are getting shorter. I have to remind my self to bring the lights before I hop on the bike today. I've had at least a dozen different rear light solutions that I can think of. All seem to fail too soon.
The majority of red blinkies on the market don't work very well in broad daylight. There's one exception to the rule. My Planet Bike "Super Flash".
It's perhaps 4 years old? Yet still as bright as the day I purchased it.With two modes, constant, where it looks every bit like the tail light of a motor vehicle Then you have the alternate mode. It's very psychedelic and will garner much attention in grid lock.  Truly a product built with purpose!
Is there any chance that you might be riding in traffic at dusk or dawn? Don't forget your lights. As, only bike nuts ride a bike when it's dark out…Never mind in the winter.